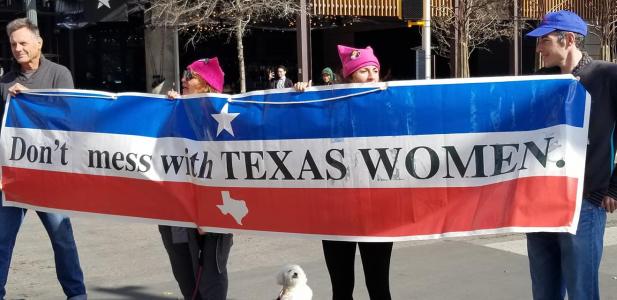 Over the weekend, thousands of people took to the streets of Austin for the 2018 Women's March. One of those marching was Lauren Johnson. Lauren is many things. Among them, she is a mother, an advocate, and a formerly incarcerated woman.
On very short notice, Lauren agreed to speak at the Austin Women's March on behalf of the more than 12,000 women currently incarcerated in Texas. Because those women could not be there to march or speak for themselves, Lauren spoke for them.
Here is an excerpt from Lauren's speech:
 "Almost every woman incarcerated today has a history of trauma and abuse that they have carried.  I carry the stories of those women with me, just as I carry survivor's guilt, like so many others I know, for all the women I left behind. Women who are, like me, so much more than the worst choices they have ever made. For too long the cost of change, the cost of freedom, has come with a hefty price, too often paid for by black and brown bodies. They add up so quickly while the change moves so slowly, but we cannot stop. Erica Garner who, just as her father, had a life that was taken too soon, said people ask her 'when will you stop marching?' and her response, like those of us here today, is 'I will always march!' So, as long as there are voices being silenced, we will march. As long as there are families being ripped apart by invisible boundaries and vicious rhetoric, we will march. As long as there are mothers behind bars, we will march."
As a founding member (along with TCJC) of the Texas Coalition for Incarcerated Women, Lauren is actively working to educate others about the issues facing system impacted women. I am proud to know Lauren, and I am inspired by her commitment to a population often forgotten.