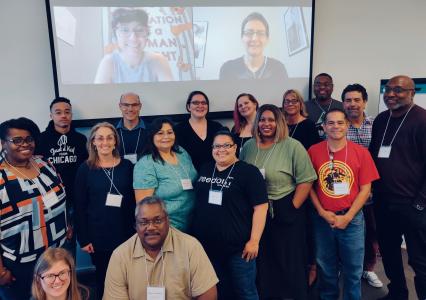 As of May 27, 2020, nearly 4,500 incarcerated people have tested positive for COVID-19 in Texas, nearly 12 times the number of cases this time one month ago. Thus far, 36 incarcerated people have died and at least five officers have lost their lives. Tens of thousands of men and women have been on lockdown in their cells or dorms for a month or more. There appears to be little end in sight.
Few people know the potentially devastating impacts of viral infection within jails, prisons, and immigrant detention facilities better than people who have themselves been detained or who have incarcerated family members. That's why it's important to recognize the ways in which system-impacted people have risen to the challenge and led the fight for better outcomes for Texans.
The Statewide Leadership Council is a coalition of leaders brought together by TCJC who are dedicated to ending mass incarceration. Members have been impacted by every part of the system, including juvenile detention, jail, prison, and family member incarceration. Some have seen their communities damaged by harmful and unjust immigrant enforcement. They have all come together to build safe, healthy, and supportive communities.
From the moment that physical distancing measures went into place in Texas, Statewide Leadership Council members dove into action, working to mitigate the spread of COVID-19 while also serving their communities.
Dieter Cantu, a prominent advocate and founder of Cantu's Books to Incarcerated Youth Project, is working to reduce the number of kids in juvenile detention centers and connect them with local service providers. He's also working with The Larry Hoover Project and Chance the Rapper on a national bailout fund, which is especially important following Texas Governor Greg Abbott's executive order restricting judicial authority to release people detained pretrial on a personal bond if they have a past conviction for a violent offense, no matter how minor or how long ago.
Norma Herrera is focused on lifting up the voices of individuals in immigration detention, raising awareness about the inhumane, unsanitary, and medically negligent conditions they face inside immigration jails in the Rio Grande Valley. People in Immigration and Customs Enforcement (ICE) detention are in danger of serious illness and death from COVID-19, and Norma is working tirelessly to save their lives and release them from custody. Norma is also educating community members about the damaging community and environmental impacts of border wall construction. 
 
Savannah Eldridge is a nurse in Houston serving on the front lines of the crisis, as well as a family member of incarcerated people. She is additionally volunteering in her community, helping seniors get needed resources.
Kirsten Ricketts operates a faith-based reentry home in Livingston for women leaving state prison. Since the beginning of the COVID-19 crisis, Kirsten has been contacting local officials in rural counties, urging them to reduce their jail populations and implement standards recommended by public health experts. Kirsten's outreach is the first time that many local officials in rural counties have been asked to be transparent about their jail operations. Her work requires courage and faith, resources Kirsten has in abundance.
 
Steven Huerta – a seasoned advocate, political consultant, and small business owner – is working day and night to reduce the number of people at risk of infection while detained in local jails in the San Antonio area. He's been communicating with the local sheriff, local judges, and other organizations about the need for urgent action. He's also serving as a resource to other state and national advocates, helping them navigate the complex terrain of elected politics as they advocate to save lives.
 
Jennifer Toon keeps in constant contact with incarcerated people in Texas prisons, tens of thousands of whom face immediate threat of coronavirus contagion. She uses her abundant talent as a writer to provide information and support. Jennifer recently wrote a piece in The Guardian newspaper to help readers understand the impact of isolation and uncertainty that incarcerated people are experiencing. She's also contributing an essay to the prison newspaper, The Echo, and is a columnist for the Tyler Loop.
Lori Mellinger runs the Abilene-based New Beginnings-Big Country, which provides shelter and supportive services for people leaving Texas prisons. With every public health expert advising state prison officials to rapidly reduce their populations, organizations like Lori's are in high demand. She receives 20 letters per week from women seeking a place to live after they are released. Lori continues to pick up women directly from prison now that bus services are delayed or closed. She's also raising money from local foundations to ensure that women in her program don't have to pay rent. While they are out of work, the residents of New Beginnings are planting community gardens.
 
Well before the coronavirus pandemic hit East Texas, Margie O'Neal was working with local leaders to create better reentry services for people coming out of prison. Since the crisis, she's been communicating with local officials about the need to reduce the number of people incarcerated to slow the spread of COVID-19 in jails and prisons. As an addiction professional, Margie works directly with people impacted by the criminal legal system due to substance use disorder. Her efforts recently earned her an NAADAC Minority Leadership Fellowship.
 
David Johnson was a judge for the virtual Incite and Release poetry slam and worked with Texas Advocates for Justice to push the Austin City Council to pass multiple items intended to help vulnerable communities during the pandemic. While the pandemic has added to his immediate priorities, it has in no way shifted his overall efforts to liberate people. In addition to the necessary work at every level to support mass release in the face of COVID-19 threats, David is currently working with Silicon Valley De-Bug to create a participatory defense hub in Austin – developing a correspondence program between incarcerated people and their membership rooted in the concepts of mutual support, pursuing the demise of cash bail, and reframing the narrative to view any use of cuffs and cages as a singular issue rather than perpetuating the false choice between criminal justice and immigration.
In addition to their work throughout Texas, many Statewide Leadership Council members took part in two days of action focused on accelerating release for parole-eligible people and improving conditions within the prison system. Under the leadership of TCJC Senior Policy Analyst Doug Smith and Peer Policy Fellow Maggie Luna, members took part in a social media day of action on April 29. Members joined fellow advocates, formerly incarcerated people, and family members in posting #SaferAtHome and calling the Governor's office to advocate for change. And last week, many members of the SLC joined a socially distanced rally near the Governor's mansion, which was organized by family members of incarcerated people, and where attendees again demanded the safe release of people from prison.
People with histories of criminal conviction are taking the lead in responding to COVID-19, and TCJC's Statewide Leadership Council exemplifies that leadership in Texas.
The Statewide Leadership Council (SLC) is a project of the Texas Criminal Justice Coalition that supports formerly incarcerated and system-impacted advocates working to end mass incarceration in Texas. SLC members build upon existing leadership experience to advocate both statewide and within their local Texas communities.