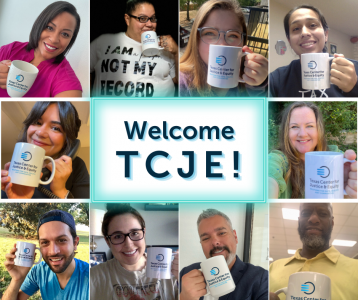 This week, a plan that was years in the making finally came to pass: We changed our name! As you may have seen from our email on Monday or in our social media posts, the Texas Criminal Justice Coalition is now the Texas Center for Justice and Equity (TCJE)! We couldn't be prouder of this new direction – and now that the dust has settled, we're excited to share this blog post with everything you need to find out how we got here and where we're headed next.
Our new name: Why did we rebrand? What does our new name – and its focus on justice and equity, rather than the "criminal" aspect of the criminal legal system – mean to us? You can find all that and more in a new section on our About TCJE page, called Our New Name.
The history of our work: Now, you can find archives of our work at the Texas Capitol sorted by policy area and year. Want to learn about the wins from our Justice for Women campaign in the 2019 session? Interested in how our work on parole reform has changed over the years? Our policy archives are the place for you! If you want to see changes from the most recent legislative session, check out our blog post on justice-related bills or our 2021 Bill Analysis Guide.
The future of TCJE: As we grow and change, we don't want to fit the same mold. That's why, after a legislative session that was defined by politics, not policy, our team hit reset. We sat down for a series of strategy sessions and mapped out a shared vision for the future. And the key piece of that vision? Hearing from you! Learn more on our Looking Towards 2023 page.
The here and now. Our county teams are already hard at work in Bexar (San Antonio), Dallas, Harris (Houston), and Travis (Austin) counties, fighting alongside local partners for changes in schools and the justice system. Meanwhile, our state policy team is pressing forward with the issues we know you care about, from youth and women's justice to drug policy to parole reform. And on top of all of that, we're building the power of our coalitions – like the Statewide Leadership Council and the Texas Women's Justice Coalition – as part of our commitment to elevating the voices of impacted people.
If that sounds good to you, we have great news: You can get involved, right now! We've launched a brand-new supporter hub with everything you need to learn about this work and make your voice heard. Visit it here!
Readers, we're so excited to share this new path with all of you, and so thankful for your commitment to our mission: ending mass incarceration and building safe, healthy Texas communities.
Cheers from TCJE!