Beginning in late 2018, TCJE began collecting county data on nearly 3,000 less-than-a-gram drug possession cases filed from June 2017 to May 2018. (A gram is the equivalent of a sugar packet.) We worked with Grassroots Leadership, the Texas Harm Reduction Alliance, and the University of Texas School of Law's Civil Rights Clinic to analyze the data and develop recommendations related to drug possession and police practices.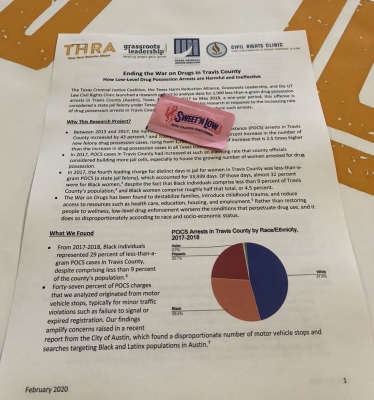 We jointly issued our key findings in early 2020, following a set of community forums but prior to a District Attorney candidate forum called "Justice & Health: The Role of the Prosecutor in Ending the War on Drugs." TCJE co-hosted the forum with the Texas Harm Reduction Alliance and Grassroots Leadership; we presented on our findings, and the candidates answered questions about their public safety priorities specific to public health approaches to drug use, harm reduction, and pre-arrest diversion programs.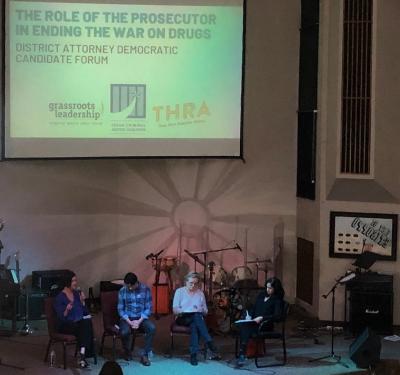 A few weeks later, TCJE and our partners released our full report, Ending the War on Drugs in Travis County, Texas: How Low-Level Drug Possession Arrests are Harmful and Ineffective. It shares the disproportionate impact of drug arrests on people of color, reinforcing similar findings by the City that Black individuals are the most over-represented of all groups in Austin when looking at stops, searches, and arrests.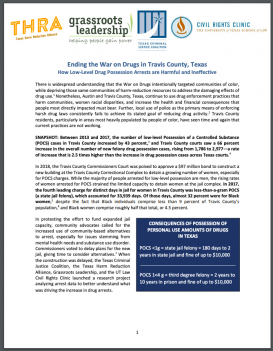 Our report also discusses the consequences of drug arrests and makes recommendations related to ending prosecution for personal-use drug possession, ending pretext traffic stops, and developing a harm reduction approach to address substance use.
We have used our report data and findings in ongoing discussions with local leadership about the need for smarter strategies in Austin.