For nearly two decades, TCJC has been advocating for justice reform in Texas. Recently, I joined Leah (TCJC's Executive Director) and Lindsey (TCJC's Policy Attorney) for a short trip to Round Rock, where we got to spend time with high school and college students, talking with them about the importance of advocating for criminal justice reform in Texas.
We shared how TCJC has been instrumental in influencing over 180 statewide justice policies that have helped reduce mass incarceration and improve opportunities for kids and adults across Texas. Leah and Lindsey explained that, although TCJC has taken an active role in advancing criminal justice reform through policy research, public education, bipartisan collaboration, and advocacy, Texas still has the largest incarcerated population in the U.S., and the U.S. still has the largest incarceration rate in the world.
Leah told the students, "Texas has made progress, but there is still so much more that we must do to end mass incarceration and promote safe, healthy communities."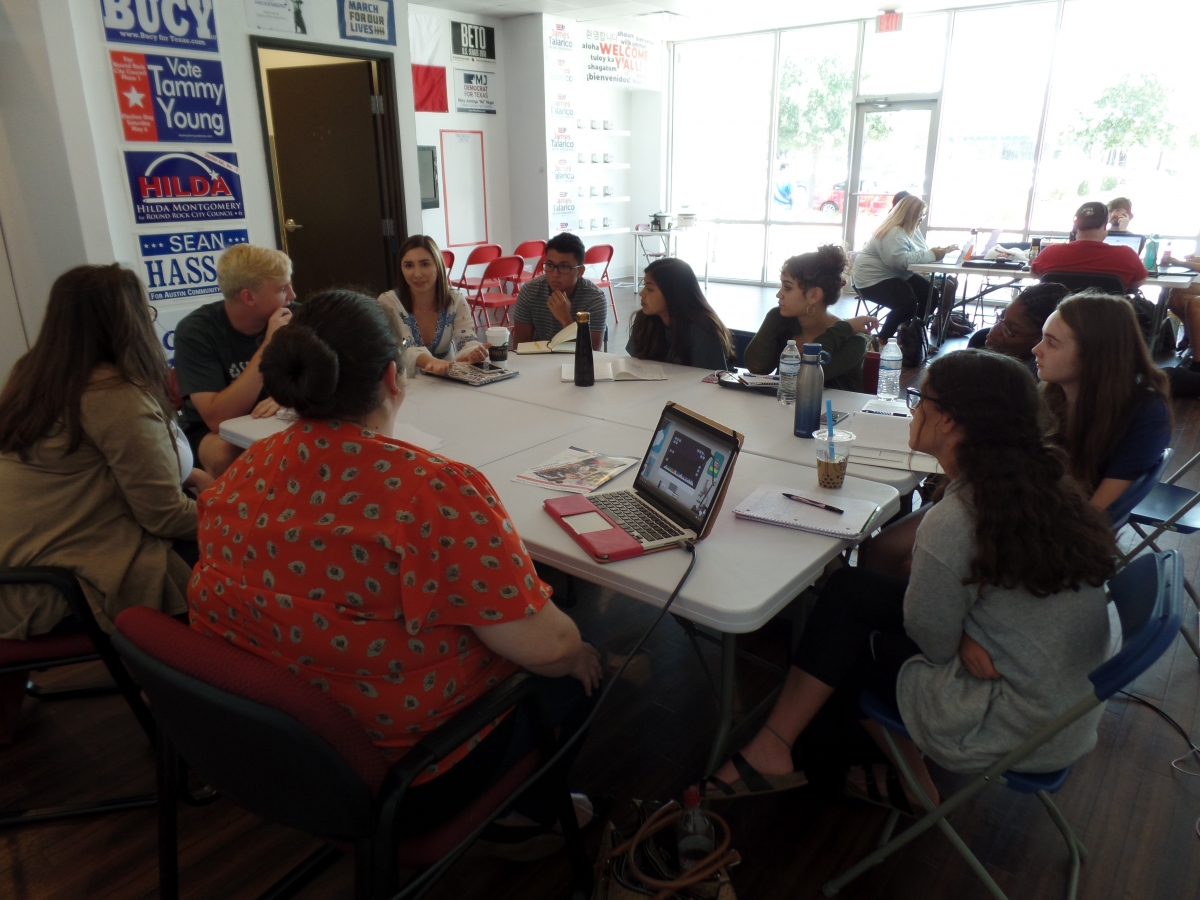 While Texas' prison and jail population numbers have come down from the highest levels in the mid-late 1990s, we are still responsible for incarcerating 145,000 people in Texas state prisons, 67,000 in local jails, 3,100 in youth detention, and 20,000 in the federal system. Another 490,000 people in Texas are either on probation or parole. Taken together, the total population behind bars or under "correctional control" in Texas is approximately 750,000 people. This comes at a tremendous cost to taxpayers, exceeding $3 billion each year.
Lindsey shared with the students, "You should be critical of where those dollars—your tax dollars—are going and what type of return on investment the state is seeing or not seeing from this massive expenditure on criminal justice."
In part, Texas' high incarceration rate is due to the state's continued reliance on the criminal justice system to solve a vast array of societal problems that could be handled in more rehabilitative ways. In 2016, there were 144,000 people arrested for drug violations alone. According to the Urban Institute, when comparing state's prison admissions for drug offenses ALONE, Texas exceeded the TOTAL prison admissions of 44 other states combined. It is critical to identify other ways to address substance use and mental health issues that do not involve a prison or jail cell.
We encouraged the students to effectively advocate for reform policies in Texas by staying informed and speaking to elected officials and key stakeholders.              
The students we spoke with were participants in a summer civic engagement initiative, Camp Campaign. The three-month program provides hands-on experience for the next generation of campaign staffers, political activists, and elected officials through fieldwork, fundraising, and communications. For more information on Camp Campaign, click here.