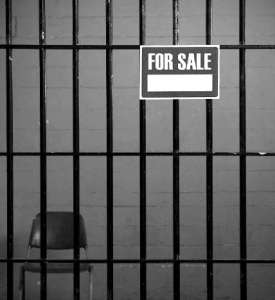 In June of this year, the Vera Institute of Justice published "Out of Sight: The Growth of Jails in Rural America," listing the counties and parishes across the country with the highest rates of pretrial incarceration. Of the top 10 counties with the highest rates of pretrial incarceration, four are Texas counties—more than any other state. They include the following counties: Limestone (7), Dimmit (5), Garza (4), and Kent (3).
Then, this month, the Pretrial Justice Institute published "The State of Pretrial Justice in America," which assigned letter grades to every state on pretrial from A to F. Texas was given a D. Both in grade school and in pretrial, a D is failing.
Pretrial release decisions are crucial in the safe and efficient operation of Texas jails. Unfortunately – but not surprisingly, considering the findings above – a 2016 study found that "Texas' resource-based bail system keeps low-risk individuals unnecessarily detained before trial and allows risky defendants to buy their freedom with limited oversight. This practice undermines public safety, disproportionately harms low-income defendants, and costs counties millions of dollars every year."
In other words, many people who cannot afford to pay bail are locked up until trial, while the wealthier go free. And taxpayers foot the bill for lower-income folks to sit in jail, legally innocent, waiting for their case to be called.
Risk assessment tools that more accurately measure a person's risk to the community, as opposed to resource-based assessments that discriminate against low-income defendants, could alleviate the costly strain on county jails (and on taxpayers), as would the increased and safe use of personal "no cost" bonds, and a presumption of pretrial release for low-risk individuals.
Pretrial reform leads to safer, more just outcomes, and it could save millions of dollars annually. Nonetheless, there are those who advocate against improvements to Texas' broken bail system. Refer them here, to a fact sheet of responses to five false claims about personal bonds and pretrial reform.