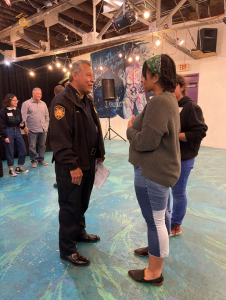 The first time I heard about "restorative justice" was during the summer before my senior year of high school, on my first day at TCJC. I was an eager-to-please Policy Associate (and very much still am, just now under a different title!), and I was excited to get my first glimpse into the policy world. Over the coming months, I would spend  a large part of my time at TCJC poring over research about restorative justice. The more I looked at the data and the more I talked to people implementing restorative justice practices, the more I realized that it was much bigger and deeper than I had thought.
Restorative justice is a disciplinary practice that seeks to repair harm by addressing the root cause of the actor's conduct, ultimately mitigating the likelihood of their behavior recurring. In TCJC's new report, Reversing the Pipeline to Prison in Texas: How to Ensure Safe Schools AND Safe Students, which I co-authored with TCJC Youth Justice Policy Analyst Alycia Castillo and Senior Policy Attorney Lindsey Linder, we dive into best practices for restorative justice as an alternative to zero tolerance policies in Texas schools. This report gives a full picture of not only restorative justice but the pitfalls of current and past disciplinary systems that make restorative justice all the more necessary for students today.
For instance, zero tolerance is a system of harsh, punitive disciplinary policies and programs that have less flexibility to consider circumstance and student history. Under that rigid system, more students—especially disabled students, Black students, and other students of color—are more likely to be expelled, suspended, and even referred to the police.
Our report also found that once a student has been removed from school, they are much less likely to finish their secondary school education or go on to higher education. These statistics—as well as the student, teacher, and administrator testimony we gathered in our research—showcase the stark need for programming like restorative justice that highlights accountability, responsibility, and the actual mitigation of harm.
We released our "Reversing the Pipeline" report at an event in San Antonio that featured amazing guest speakers, including teachers, reporters, and community members, along with a student-led panel of San Antonio ISD students who shared their experiences with school police and zero tolerance policies. I was lucky enough to moderate their discussion and share some of my own experiences as well. When you hear the stories directly from students, it becomes very difficult to ignore how restorative justice practices are a necessary alternative. Harsh disciplinary policies put students through significant hardship: from a constant feeling of being watched due to over-policing, to being physically assaulted by police officers, to having little to no access to mental health services while at school.
I've been incredibly lucky to work with TCJC as a Youth Justice Ambassador throughout my senior year of high school. Their staff are some of the first to take on student voices and center them in their youth advocacy—something that I'm sad to say is severely lacking when we talk about education reform.
Before I go off to college at the end of this coming summer, my hope is that enough people will hear about and take the time to understand restorative justice so that it can become a reality in more schools and serve students better. If you want to learn more about anything I mentioned here, consider reading our full report, glancing over the quick facts, or checking out a radio interview featuring Alycia and me.