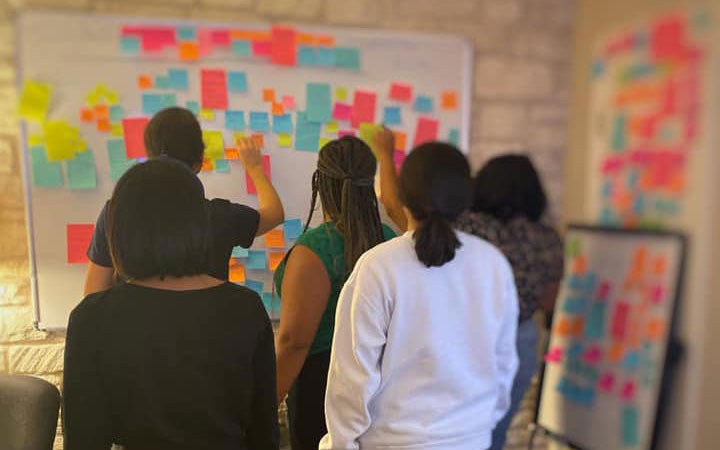 After an incredibly challenging state legislative session in 2021, the TCJE team hit reset. We held a series of strategy sessions to determine how best to set our direction for Texas' 2023 legislative session. Our biggest takeaway: We must listen to community needs.
Over this legislative interim, we anticipate working with community members and groups throughout Texas to understand what will improve people's lives – what will strengthen their families, and protect their safety and wellbeing.
Those voices and experiences will inform our 2023 legislative agenda. 
But until then, the TCJE staff continues its commitment to the following overarching principles:
 We must REVERSE the pipeline that's pushing people into the criminal punishment system. We not only want fewer people entering prisons and jails, but fewer people entering the criminal punishment system overall. That starts with police and prosecutors. And it means treating kids like kids.
 We must SHRINK the number of people who are currently under correctional control or who are impacted by prior system involvement. We must reduce the population of people in prisons and jails, as well as the number of people under supervision, like probation and parole. Furthermore, we must give people the tools and opportunities to overcome the harsh, long-term consequences of a conviction.
 We must INVEST in approaches outside the criminal punishment system that support individual and community wellness. We must shift investments away from the criminal punishment system and towards community wellness: programs and services that can help people address their needs – like substance use disorder, mental health problems, past trauma, or lack of housing. Addressing the root causes of crime will ultimately make our communities safer.
 We must PROTECT the rights and wellbeing of people behind bars. We must ensure the humane treatment of people who are incarcerated – preserving their dignity and their safety.
You can lend your voice to this work! Check out our supporter hub for ways to get involved, and fill out this form to share how you've been directly impacted by Texas' justice system.